Image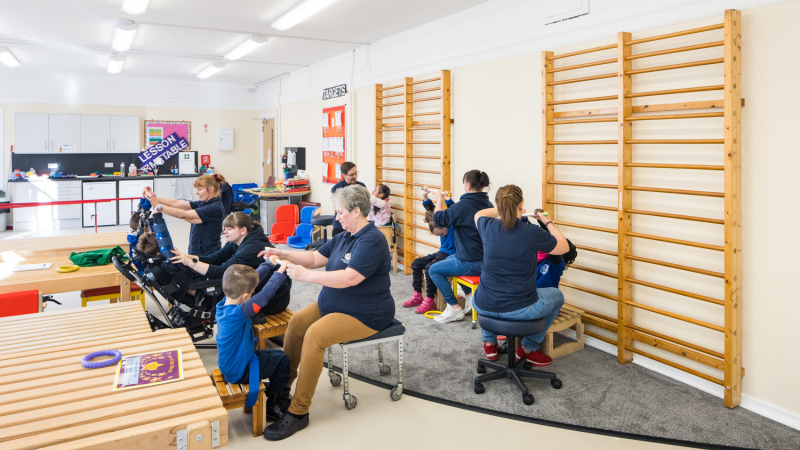 Paces is a leading charity for children and adults with Cerebral Palsy and other neurological disorders. They used social investment to refurbish and fit out their new premises, making it fit for purpose. 
Product type
Charity bonds
Crowd-funded investment
Challenge
Based in Sheffield, Paces is a leading charity for children and adults with Cerebral Palsy and other neurological motor disorders. From its Yorkshire base, it supports individuals and families of all ages across the county, the Midlands and further afield, making a real difference to their lives.
Solution
The charity runs Paces School, a special educational needs school for pupils aged 3-18, and Paces Conductive Living, which offers a range of adult services. It aims to positively change the lives of those it supports and focuses on ability, not disability.
For several years, the charity had been exploring options to relocate its school and it found the ideal opportunity at Thorncliffe Hall, only a mile away from its previous premises, allowing the charity to increase its pupil numbers by over 75%. The money raised was used to refurbish and fit out the new premises to provide the facilities needed for the pupils.
Revenue
Income is derived predominantly from local authority and statutory funding for the provision of support for people with for children and adults with Cerebral Palsy and other motor disorders of a neurological origin. 
Other sources of income include donations and grants.
Impact 
Paces School is one of the country's leading centres for Conductive Education and has had ambitious growth plans to fulfil the demand for its services, which far outstripped the number of places available at the site where its school was previously located.
"Paces have worked with Triodos for over three years on securing social lending for the development of our new school at Thorncliffe Hall. As a small / medium sized charity, we had a great vision for a new school, in an aim of supporting far greater numbers of children who could benefit from our programmes; however, we had little experience of social lending.
Triodos have supported us through our business planning and financial modelling processes and particularly helped with our scenario planning and stress testing of our business model. This gave us the confidence we needed to launch our bond to realise our vision. As a management team we have found that the support from Triodos has been gradual, patient and processes have been clearly explained in a supportive environment.
The advice and help we have been given has been tailored to our need and to our capacity and knowledge. As a result, we are more confident in our decision making and more staff and Trustees are clearer about the relationship between our finances and our social, educational and health objectives. Although the learning curve has at times been steep, we have enjoyed the journey."
Paul Walters, Head of Operations
 "The Triodos Bank corporate finance team really admire Paces and it was fantastic to be involved with the opportunity to help them refurbish a new larger home for the school. The £1.5m raised on our crowdfunding platform directly from social investors will enable Paces to support so many more children from Yorkshire and beyond, making a huge difference to their lives."
Tom Dyke, Corporate Finance Manager