Recognising all of the inspiring individuals that #ChooseToChallenge from within the Social Investment, Social Enterprise and Charity Sectors. We asked the community to nominate anyone from within their networks who deserve to be celebrated for their efforts in addressing gender bias and challenging gender inequality.
It's strange to think about how much has changed since the last International Womxn's Day. In early March 2020, you probably didn't understand the point of Slack and a scotch egg was merely a take-it-or-leave-it option in a Marks and Spencer's meal deal. Nobody could have predicted what was to come and it's certainly tested resilience and adaptability for many, particularly frontline facing charities and social enterprises. 
We hope that by recognising the achievements of those who challenge gender inequality in whatever they do, we are raising awareness against gender bias and taking action for equality. We asked for nominations of people from within the social enterprise, social investment and charity sectors and we were blown away by the fantastic response. Below, we have categorised each and every nomination to spotlight those that are truly making a difference. 
Social Investment 
A fantastic team that empowers people, equipping them with the tools they need to have conversations that matter. We had a couple of nominations for various members of the brilliant team at Think2Speak. Read more about their experience with social investment. 
Lizzie Jordan & Saoirse Williams
"The Think2Speak team challenge gender inequalities, stereotypes and binaries in every aspect of the work they do. In 2021, Lizzie & Saoirse especially are working with organisations including NHS trusts to improve healthcare pathways supporting trans and gender diverse people." 
Lauren Quickfall & Lex Greenwood
Image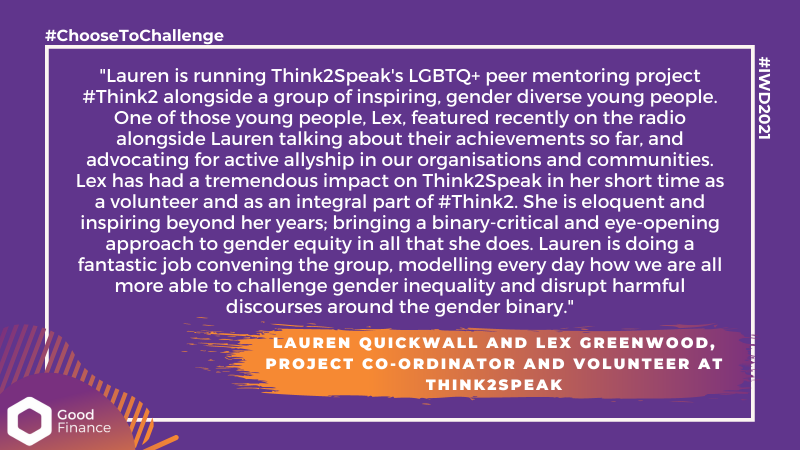 Gill Collins 
"Gill works tirelessly to champion the roles of women across the social economy, and to support more women and more women led community organisations to be able to access and benefit from social investment. She does this through research, crunching data, highlighting impact, and identifying opportunities for women."
Gill is the Production Director at Sortified, is a progressive social enterprise, creating and producing positive change for people, communities and community organisation. 
Dr Hinnah Rafique 
Generation Medics supports current and future healthcare professionals to lead successful careers. Read more about their story. 
Image
Geetha Rabindraukumar 
"Geetha was my first boss @BigSocietyCap she is the antithesis of all the stereotypes which dog social investment. No pale,male,stale fancy pants bankers here :) Her passion for creating impact for taking this role on our IC bringing the voice of the sector. Geetha never failed to inspire me and I hope she provides reassurance that it is possible to bust those glass ceilings."
Geetha is now the Director of Social Change at Cardboard Citizens, an organisation that makes theatre for social change, empowering people with lived experience of homelessness. 
Alexandra Joseph
"Alexandra's frank and to the point contribution is hugely helpful in keeping us to our values. She embodies our culture and our conscience choosing to challenge well and her input is much appreciated."
Alexandra is the Investment Group Administrator at Big Society Capital, which aims to improve the lives of people in the UK through investment with a sustainable return. 
Candice Hampson




Liminal Health

connects people affected by chronic conditions to remote health coaches and personalised content. 
Image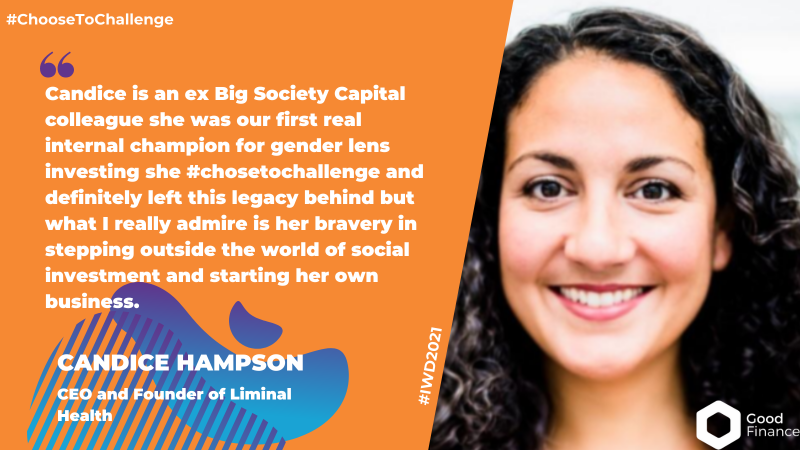 Mathu JeyaloganathandIn
"Mathu uses her platform to lead and inspire all of us to create better, fairer world."
Mathu is Head of Investments at UnLtd, a leading provider of support to social entrepreneurs. 
Lisa Pickard
"Lisa is an exceptional role model who is passionate about making a difference to peoples lives. She challenges gender inequality every day by showing how a woman can lead a charity with grace and resilience. She is also an advocate for many and uses her social media channels to help campaign and raise awareness of issues."
Lisa is Group CEO of Five Lamps. They deliver social, economic and financial inclusion services to transform lives, remove barriers and offer choice. 
Ishita Ranjan
Ishita is the Project Manager here at Good Finance and leads the way in planning and developing all of the fantastic resources we provide to charities and social enterprises to help them navigate social investment. She is also Director of Spark&Co. a community interest company that supports people of colour in the UK by providing information, education and opportunity. 
Image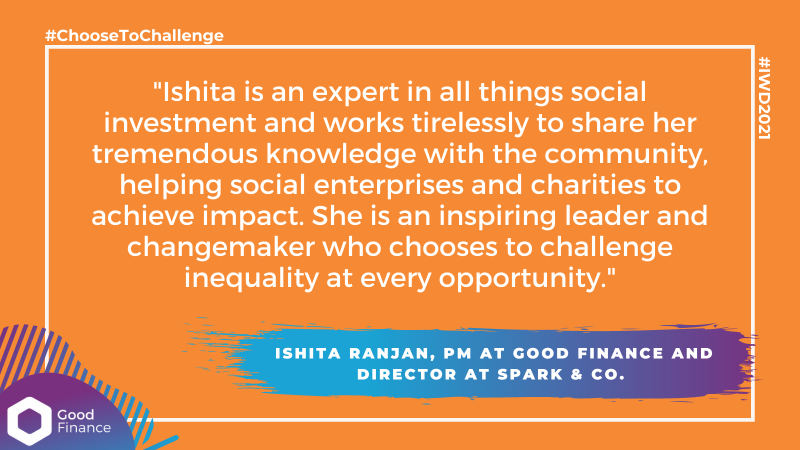 Fran Sanderson, Laura Callanan and Carolina Biquard
"Impact investors are missing a large swath of the global economy where women and others who are often overlooked can be found: the creative economy. Fran, Laura and Carolina launched Creativity, Culture & Capital, a global collaboration to highlight the brilliant work happening across the globe and push for more investment in the sector."
Creativity, Culture & Capital aims to develop a just, sustainable and profitable global creative economy through impact investment. 
Leadership
Fatima Ribiero




Comic relief

is a major charity in the UK with a vision of a just world free of poverty.
Image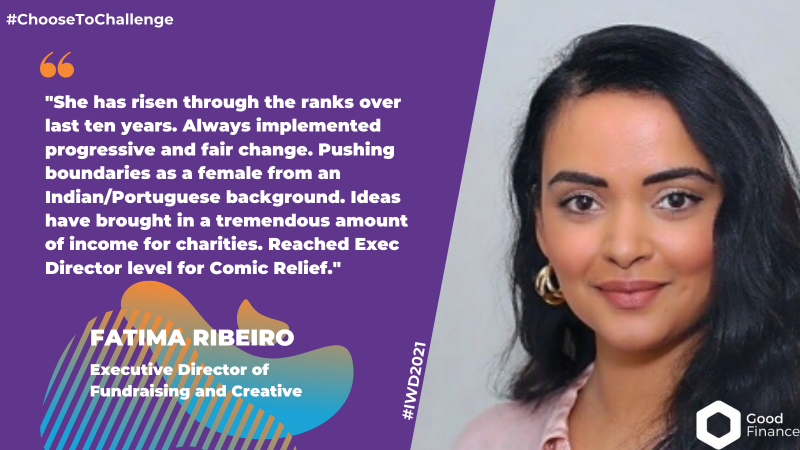 Let Toys be Toys 
"They challenge gender stereotyping in the toy industry and related children's products - all volunteer, mainly online, but have had a real impact"
A volunteer collective making a real difference – check out the Let Toys be Toys campaign. 
Servane Mouazan 
Image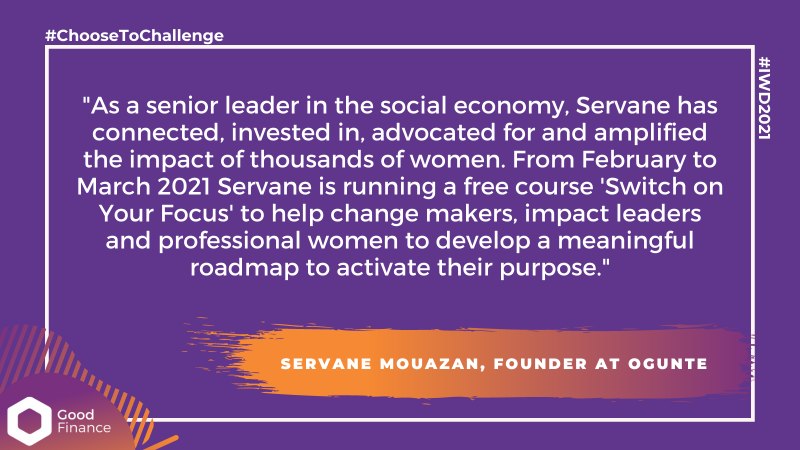 Servane also received a second nomination:
"Absolute powerhouse in supporting women to start, grow, finance social businesses. Connects, empowers, platforms, she is incredible."
Ogunte helps women in social enterprises and their supporters to make a positive impact on people and the planet.  
Aminah Babikir/Glaiza Padulla
"Women leading a large social community centre where all are welcome. Supporting Kilburn/Brent. Projects, soup kitchens, outreach, homelessness, mental health, amongst more topics. Pushing boundaries in charity sector and creating a safe space. Inspiration. Role models."
Learn more about their alternative community hub, Rumi's Cave. 
Suzanne Biegal
Catalyst at Large are passionate about amplifying the role of women in impact investing and investing with a gender lens. Check out our recent Jargon buster on gender lens investing.
Image
Taslima Ahmad
"Taslima helps vulnerable & disadvantaged women by empowering them with skills, support and confidence to maximise their potential so that they can rise up to challenge inequality. Taslima is passionate about balancing gender inequality. As a member of GM Mayor's Equality panel, Taslima is involved in helping to change the narrative around gender inequality."
CDM UK aims to provide an environment for artists, and to provide workshops and training for aspiring practitioners. 
Caroline Mason
"Has been the driving force behind some huge structural changes in the Foundation, including looking at the way we approach equality both in our funding and as a staff team." 
The Esmee Fairbairn Foundation is a large independent funder aiming to improve the natural world, secure a fairer future and strengthen community bonds in the UK.
Capacity 
Binita Shah Patel
Image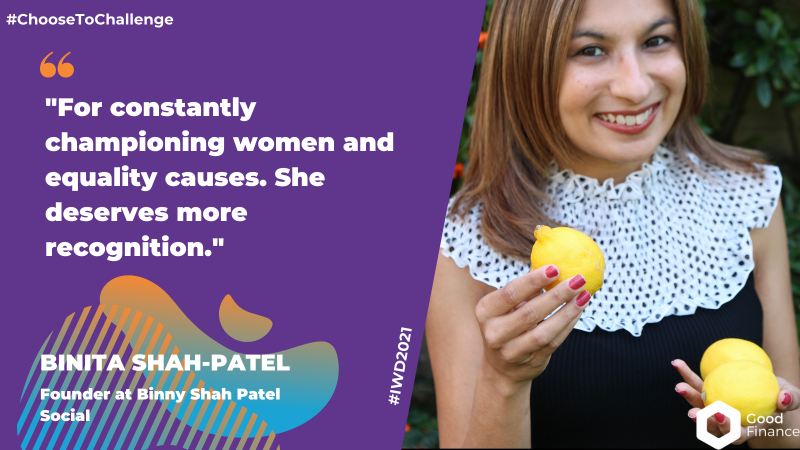 Isabel Oakley Chapman
"Isabel has been instrumental in launching and running Power To Connect which was set up in April 2020 as a direct response to the COVID19 Pandemic. >600 devices have been distributed via schools to families across Wandsworth to tackle digital poverty and keep children in learning."
Power to Connect addresses the digital divide through community connectivity, supporting disadvantaged families in Wandsworth who are struggling to stay connected throughout Covid-19. 
Ali Ward
"Ali inspires me because she works her socks off at SEYH to develop a strong and local social enterprise network. She is a one-woman team, delivering events, running programmes and leading a brilliant organisation. She is passionate, kind-hearted + always brings a smile to my face."
Social Enterprise Yorkshire and Humber represents, promotes and connects social enterprises across the region. 
Atiha Choudry
Image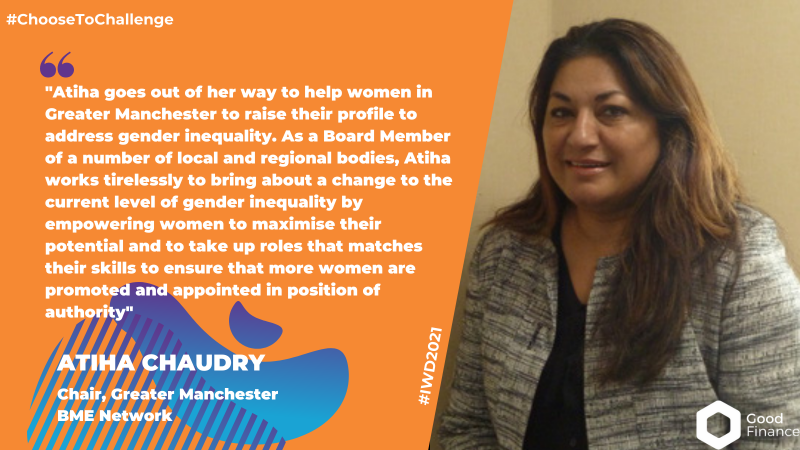 Manchester BME network is a member-led network of organisations which supports Manchester's Black and Ethnic Minority communities.
Sophie Hobson
"Sophie is always championing, support and leading others around her. She inspired me to keep learning and be better!" 
Henna Patel
Image
The School for Social Entrepreneurs equip people to transform their communities and improve the lives of others. 
Tony Ereira 
"Tony & @comeplaywith endlessly push projects to platform women & people of marginalised genders in music in Yorkshire - releases, panels, workshops, advice clinics + in their magazine + gigs (when allowed!)"
Come Play With Me has previously hosted events including 'Women In Music' (Advice and discussions with those who have succeeded in the music industry) and 'LGBTQ The Music' (A discussion and support network for the LGBTQ+ community in music). 
Grace Dyke & Kirsty Day 
"Grace Dyke and Kirsty Day at Yellow Jigsaw have provided intensive support to 11 women changemakers we are supporting through our Resilient Leaders programme providing additional Media, PR and Strategic Communications support plus partnered with us on our #IWD2021 twitter campaign putting 'Good News back on the Front Page' and highlighting women as a force for social change @FlourishCIC"
Yellow Jigsaw is a Communications Consultancy based in the North West to the not-for-profit and value-driven businesses and delivers targeted campaigns to tackle the issue of media diversity. 
Seanna & Ciara Hamill
Image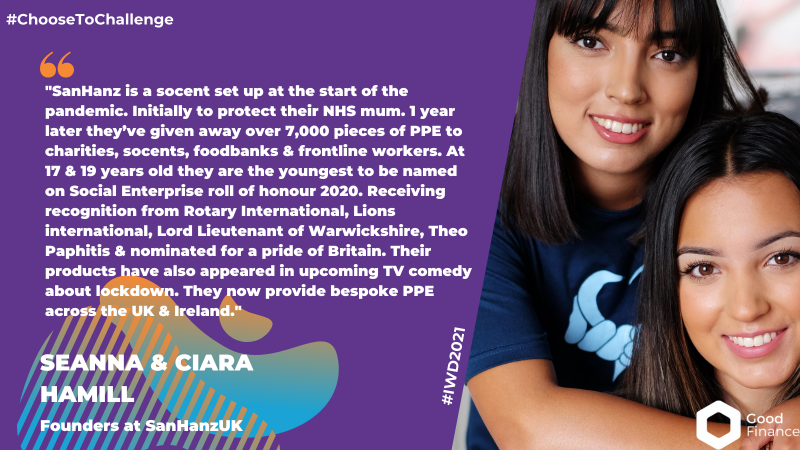 Katharine Sutton
"Working in a male-dominated low paid, low status industry and challenging prevailing conditions that regenerates inequality, low pay and structural disadvantages through devolving responsibilities to front line employees, Living Wage and good work while campaigning for public value and fair procurement practice."
Aspire Community Works is a community interest and campaigning organisation that promotes lively and healthy communities.
 
While Good Finance is UK-based, we did receive an international nomination that we'd also like to recognise. 
Marina Malmberg, Chair of the Board at the Sustainable Expatriation Foundation:
"Marina's organization provides global social impact and raising awareness of the vulnerable position of expat spouses and aiming for consultative status within the UN, the OECD and the ILO to support the situation of expat spouses globally, primarily women, who end up unemployable due to the current unsustainable approach to expatriation from the national policies, prohibiting the dependent spouses from work, which violates universal human rights of women in many countries in 2021." 
Thank you to everyone that nominated and well done to all the nominees! We've been delighted to celebrate and share your success stories in the hope of spotlighting some of the positive stories after what was, for many, a very tough year. 
For more fantastic #IWD content, check out our recent blog post where 5 female leaders share their top tips and advice on choosing to challenge gender inequality.
At Good Finance, our aim is to help charities and social enterprises navigate the world of social investment. If you've been inspired by any of the individuals above or you're contemplating the various fundraising options for your organisation, try our 'Is it right for us' Diagnostic Tool to help you determine if social investment is the best way forward.