It's been several months since we hosted the Addressing Imbalance Live event. Since then, as a team we've reflected on many of the learnings that have come from the event and tried to understand how we can translate these into real actions. Our 'Big, Hairy, Audacious Goals' as Patricia Hamzahee described them.
Image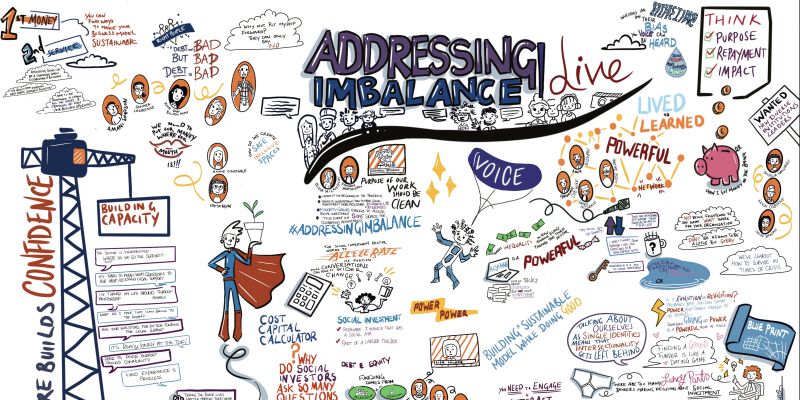 It's taken us a little while to put pen to paper to actually communicate our next steps. While we came away from Addressing Imbalance Live with a renewed sense of energy, enthusiasm and conviction, as a team we also felt overwhelmed by the scale of the change that is needed to make social investment a more equitable space. Addressing Imbalance is a small intervention, where do we even begin and how can we position our work to make the most impact?
As we've continued to have conversations with speakers, attendees, investors and colleagues across the social impact space, we've realised that actually the most important thing we can do is build momentum. Good is the enemy of better and while we'll never have a perfect solution it's better to do something than do nothing.
There is some fantastic work being done across the sector; the launch of Pathway, a Black-led social investment wholesaler, an increasing number of social investors committing to the Diversity Forum manifesto and the launch of the Create Equity Fund are only a few examples of progress being made. As a trusted source of information on social investment for charities and social enterprises, we wanted to touch on some of the ways we'll implement learnings from Addressing Imbalance Live across our work at Good Finance. Collaboration is key to us reaching real goals and as such, we also want to share a little more about the role we will play alongside others.
1. Be vocal
We will shout louder and be unafraid to have difficult conversations or challenge the status quo, while holding space for others to have their voices heard. We will seek to facilitate connections to support charities, social enterprises and community groups in achieving their organisational missions. Through an online community we will host dedicated sessions to allow leaders to connect, vocalise challenges and feedback, share updates and seek to integrate 360 degree learning around social investment.
'Lived experience is priceless' and we believe that a diverse range of voices need to be in decision making positions. 'Investment expertise needs to be the enabler, not the leader' said Stephen Bediako. Investment Committees of the Future is a Good Finance programme launching in early 2023 which seeks to provide a pathway for people with lived experience to join investment committees.
2. Be impatient
There was a clear level of frustration in the room at Addressing Imbalance. 'We're done talking, we need action' reflected one attendee and we can only echo this sentiment. Change is happening, but it has been painstakingly slow.
Equality, diversity and inclusion needs to be a priority for the social investment sector, not a 'nice to have'. We will champion a sector-wide approach to setting targets to redress the balance of funding that reaches marginalised groups and urge investors to be transparent around progress and figures. It is not a 'name and shame' exercise but rather an understanding that we need to work collectively to channel funding into underrepresented communities and be open and transparent about how we do this.
3. Be authentic
We commit to building on existing relationships and identifying opportunities for collaboration to increase awareness of social investment and accelerate change. Through our case studies, blog posts, podcasts and events, we will ensure that our content is representative of people and communities throughout the UK, with a particular focus on showcasing the work of organisations led by or working with people who have experienced marginalisation due to race, disability, gender and/or sexuality.
Across our scope of work we'll set ourselves targets and key performance indicators and be transparent around where we are achieving these, and where we have fallen short. We will constantly strive to be better and critically analyse and reflect on the work that we have done, taking on board feedback from our partners and users.
"I don't want to make money for rich people, I want to enrich people"
I found the above statement from Amani Simpson, Founder of Aviard Inspires CIC particularly inspiring when speaking about why he left a well-paid role in property to set up his social enterprise which empowers young people. It speaks to the resilience, passion and drive of the people behind social enterprises and charities that are serving some of the most 'left-behind' communities across the UK.
You are the changemakers and you are the people who are really making an impact - and in the current climate your work is more important than ever.
Our key takeaways from Addressing Imbalance Live?
Think big. Make space. Fund equitably.
We heard you. Now let's make it happen.