Social Enterprise UK's latest State of the Sector report titled 'No Going Back' was recently published, and in this post, we explore the key finance themes and takeaways for the rest of 2021 and beyond... 
 
The report showed how social enterprise is vital to building an equitable and sustainable economy. With the continued fallout of the pandemic and the urgency of dealing with the climate emergency, we simply cannot go back to business as usual. In this post we explore the key themes of finance. It's an interesting read, so grab a cuppa and get immersed...

The State of Social Enterprise is published every two years and each report looks in depth at the kinds of finance/capital social enterprises are looking for, the challenges they face and what they are using it for. You can download the full No Going Back report here. 

Here are some of the key takeaways from the 2021 report:
We can't get away from COVID
Analysis of the challenges faced by social enterprises over the last two years shows the huge impact of COVID. Usually access to finance and funding, whether that is loans or grants, is cited as one of the main barriers to sustainability and growth. This year the main barrier the sector faced was the uncertainty caused by the pandemic.
The second most common barrier mentioned by respondents was obtaining grant funding, as has been the case in previous years. Interestingly, accessing debt or equity finance (where social investment comes in) was cited as a main barrier by just 6% of social enterprises (compared to 18% in 2019). This may be due to a combination of financial uncertainty from the pandemic and the provision of emergency funding and finance from the Government and other sources, including grants.
When we break down the barriers to growth, finance in general comes in third place:
Image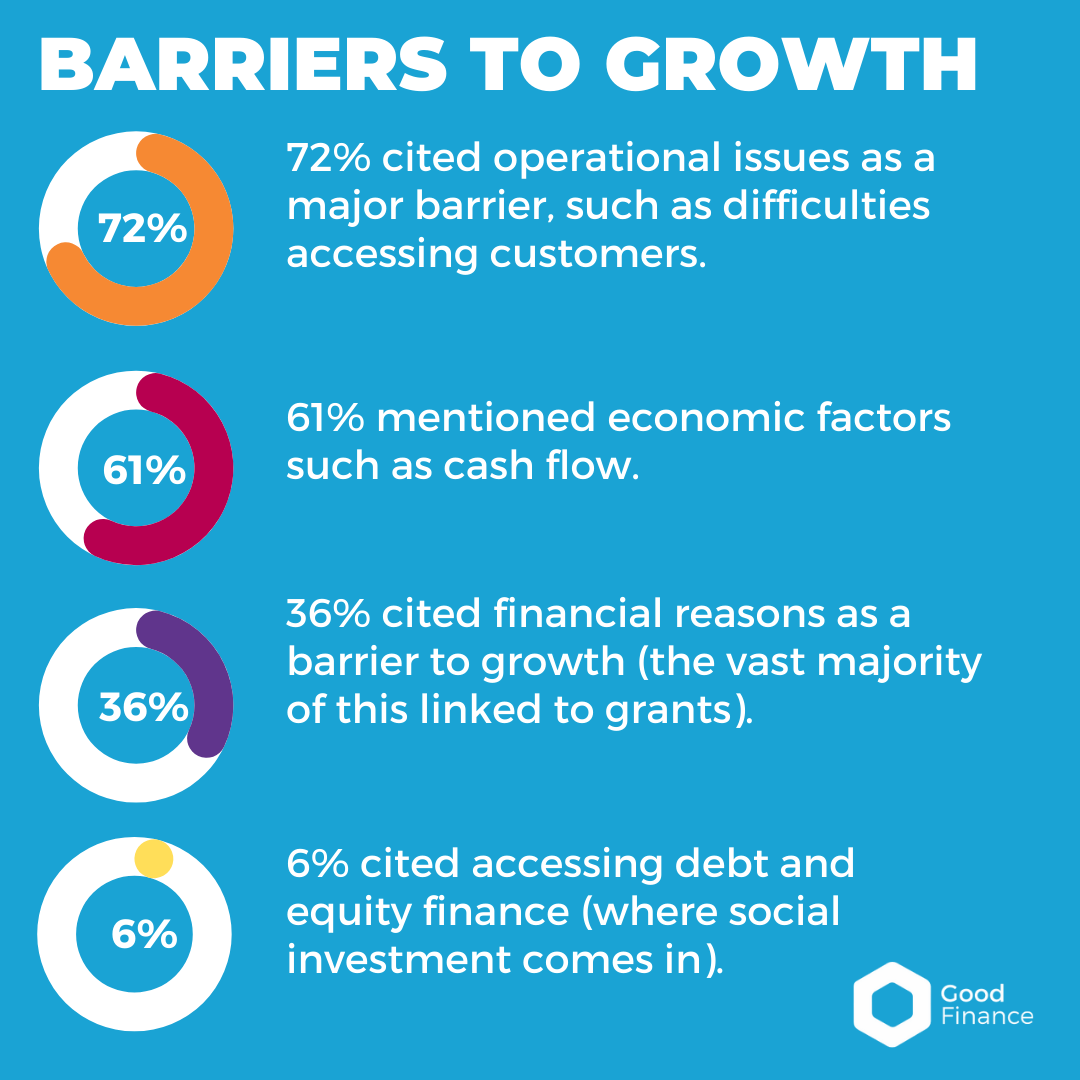 Good Finance Response:
At Good Finance, we are in awe of the resilience shown by social enterprises and charities across the sector, many of which are frontline facing and all of which have faced challenges unlike any other over the last two years. Our Recover and Rebuild Hub remains live and exists to provide information and resources on emergency access to finance. 
In the midst of economic uncertainty and with access to grant funding remaining challenging, some organisations look to social investment as a way of diversifying their income and maintaining cash flow. We hope the tools and resources available on our website, including the Is It Right For Us tool, equip our users with everything they need to apply for social investment.  
A temporary increase in grant reliance?
A third of social enterprises applied for funding over the past 12 months, fewer than in 2019 where 38% applied. However, this is much higher than the proportion of businesses as a whole – only 10% of which applied for external funding. When the stats for social enterprises are broken down:
Image

When asked where they applied for funding, social enterprises most frequently said it was from a grant making trust or foundation. Overall, the volume of social enterprises seeking grant funding has gone up from 27% in 2019 to 42%. Results show both increased grant reliance, as demonstrated by the decrease in proportion of income from trading this year. We assume that this is a short-term shift, but this remains to be seen.
Good Finance Response: 
We will always recommend that social enterprises and charities explore all their options, including grants . However, some organisations are not eligible for grants or do not have the capacity or resources to be successful in this area and overall there is never enough grant to service all the organisations who might want this type of financial support. 
In terms of the process for applying for social investment, we acknowledge that there's still a long way to go to make this accessible for all social enterprises, charities and community organisations. That said, progress has been made with the development of the Reach Fund and through events, tools, resources, case studies and insight blogs, we hope Good Finance is helping to break down some of these barriers.  Cost of capital is no longer cited as a significant barrier, nor is knowing where to go to find investment sources, and with over 300,000 Unique Users of Good Finance we certainly hope we are helping in this area.
What is finance being used for?
55% intend to use the finance they receive as working capital and 52% as development capital. In 2019 this figure was 39% perhaps unsurprising given all the pivoting of services and the adaptation of business models which has been necessary. 45% sought finance to sustain operations during challenging times up from 16% in 2019 – as clear a sign as ever of the impact of the pandemic on the sector. 
Good Finance Response:
It is important also to acknowledge that not all organisations have been impacted adversely, some have been able to scale rapidly in their response with others taking investment to respond to the crisis. This is a fact perhaps borne out by the 23.9M of investment made through the Recovery and Resilience Loan Fund. 
Image
There is not a level playing field for finance
Perhaps the most important aspect of the report are the barriers, both real and perceived, which are preventing social enterprises from accessing external finance.
Social enterprises are businesses set up to reduce inequalities with many social entrepreneurs having direct lived experience of the issues their businesses address. Social enterprises are often on the front line of tackling issues such as racial inequality and the disability employment gap but too often it is the groups most in need of funding who find it hardest to access it.
Social enterprises led by people from racialised communities and people with disabilities are more likely to have applied for external finance (60% and 40% respectively). However, social enterprises led by people from racialised communities sought equivalent amounts of finance to the overall average, but received significantly less. Social enterprises led by people with disabilities sought, on average, half as much money as the average, and also received less than the amount that sought. Female-led social enterprises also see a similar pattern of lower amounts sought and proportionally less obtained.
Businesses led by individuals from racialised communities are more likely to have applied for loans (51%) and less likely to have applied for grants (70%), compared to other social enterprises. Those led by people by racialised communities were more likely to be put off by the time and hassle in putting in an application and less confident about their capacity to take on finance. 44% of businesses led by people with disabilities expect their application to be rejected, compared to 15% overall.
Regardless of the type of finance sought – funding bodies, be they social investors or foundations, need to think about why this mistrust exists and put in place systems to address them. The wider question also needs addressing of looking at whose applications are being rejected and why.
Crucially it shows that it is social enterprises from marginalised groups that are struggling the most to access external funding. 
Image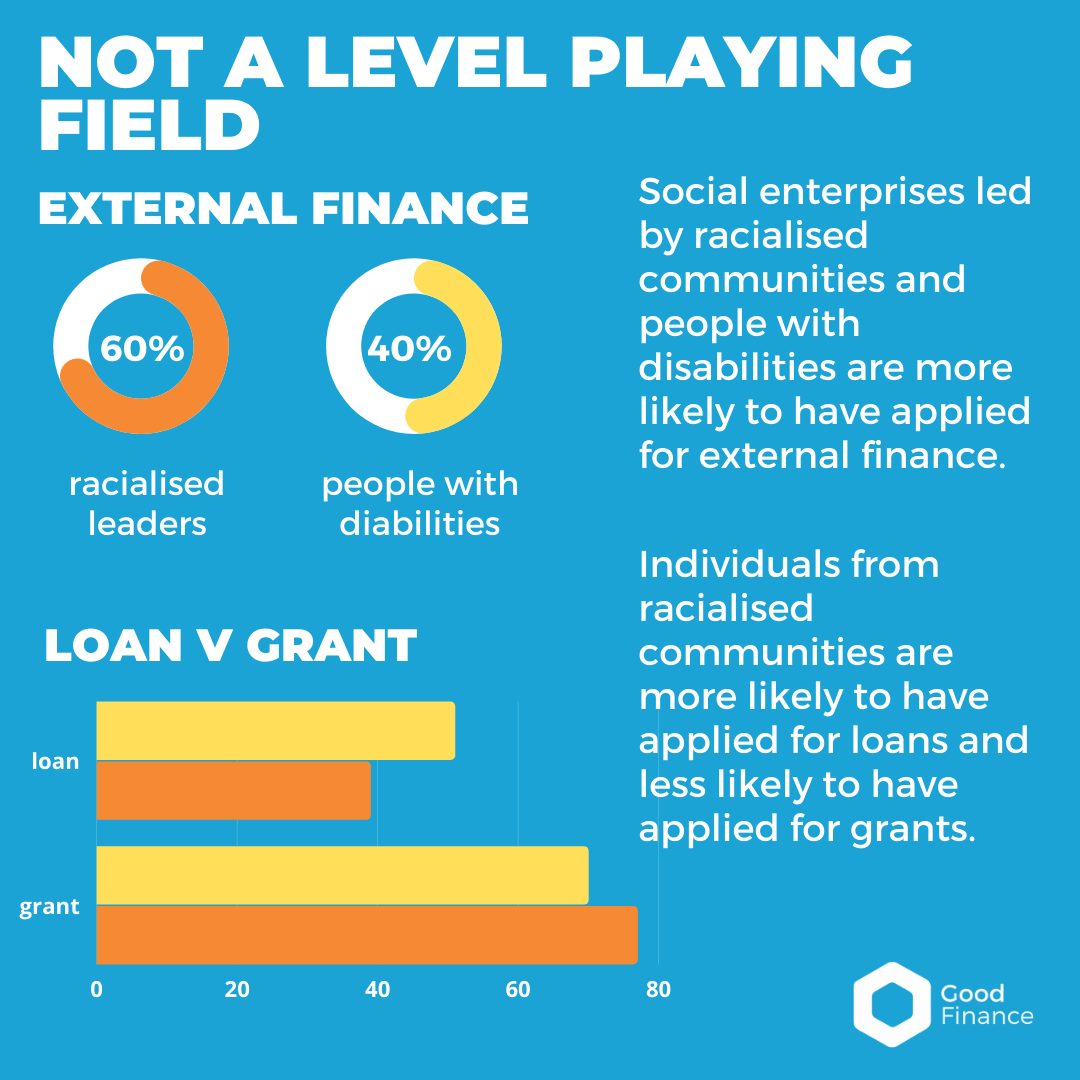 Good Finance Response:
We recognise the imbalance that exists within repayable finance and are pleased that this report has once again highlighted the inequality that plagues this sector and many other industries within the UK. There's a long road ahead, but with more and more organisations prioritising and championing Diversity and Inclusion, we truly believe the social sector has the capacity to create real change.
 At Good Finance, we have a commitment to Diversity and Inclusion action plan, a measurement document that holds us accountable against our goals and various blogs to convey our position. In addition, we have created Addressing Imbalance – an engagement programme that exists to connect with Black and Ethnic Minority led organisations. 
The funding gap
The median amount of repayable finance being sought by social enterprises has stayed steady at £50,000. However the median amount raised is lower at £40,000 with stark imbalances highlighted in the challenges of accessing finance for some social enterprises highlighted above.
When looking at the volume of repayable finance actually raised, social enterprises led by people with disabilities sought 25k and received 20k on average. This figure is much higher for those led by racialised communities, who sought 50k and received 25k - just 50% of what they requested.
Only one in ten organisations who applied for finance were unable to get any. Lots of work has been done over the past few years to make social investment easier to understand. Organisations like Access have been set up to bridge loan and grant funding and to provide smaller sums of money there have been specialist support programmes like The REACH Fund alongside Good Finance these are all aimed at improving access to the finance social enterprises need to sustain and grow.
The data is showing that there is still some mismatch between what social enterprises want and what investors can offer. In total the report estimates that when comparing the shortfall between what businesses apply for and what they get, there is a shortfall in repayable finance of around £17.8 million for social enterprises across the UK as a whole. 
Overall the report shows that access to finance is still a key barrier for social enterprises to grow and develop and that there is a clear funding gap between the sector's needs and what it can access. 
Image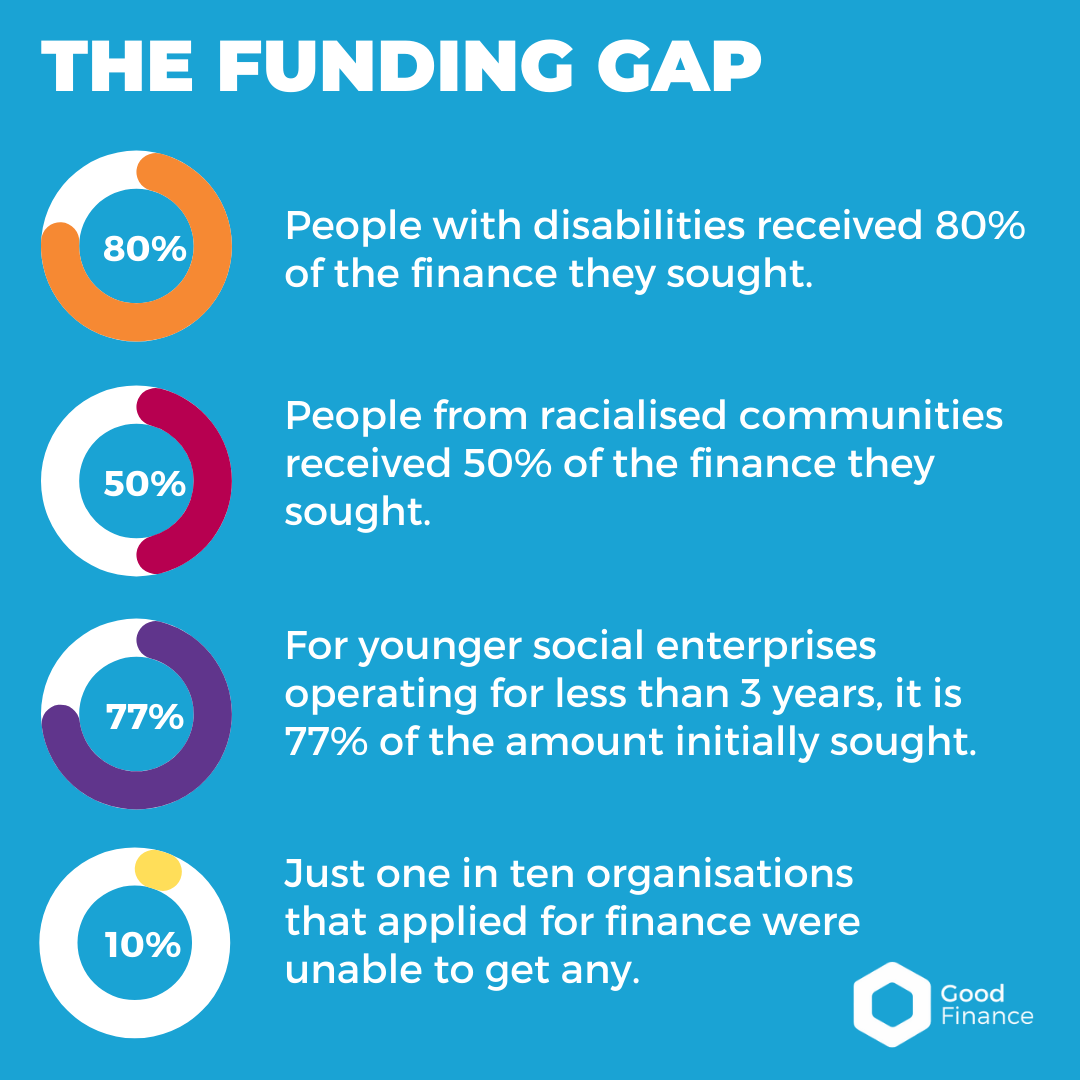 It's never been more urgent to harness the potential of social enterprise to help them take on the vast inequalities the pandemic has exacerbated and the ever-present climate emergency. Resources like Good Finance are a vital way of bridging the gap between investor and social enterprise and making the complex world of finance easier to understand and most importantly easier to access.
Good Finance Response: 
We acknowledge that there is still a long way to go in terms of breaking down barriers and making social investment accessible for all. For as long as statistics like this remain true, we will be holding events, developing resources & tools, busting jargon and listening to all of you – our fantastic users – to learn how we can better share knowledge and insight on this topic. 
If you have an idea on how we could work with you to do this, please do get in touch via aconstable@goodfinance.org.uk. 
Shehan Perera is the Content Manager at Social Enterprise UK.