Social investors are developing a pilot fund to support charities and social enterprises navigating rising energy costs by improving their energy resilience. 
Have your say on how you've been impacted and what support you need.
Image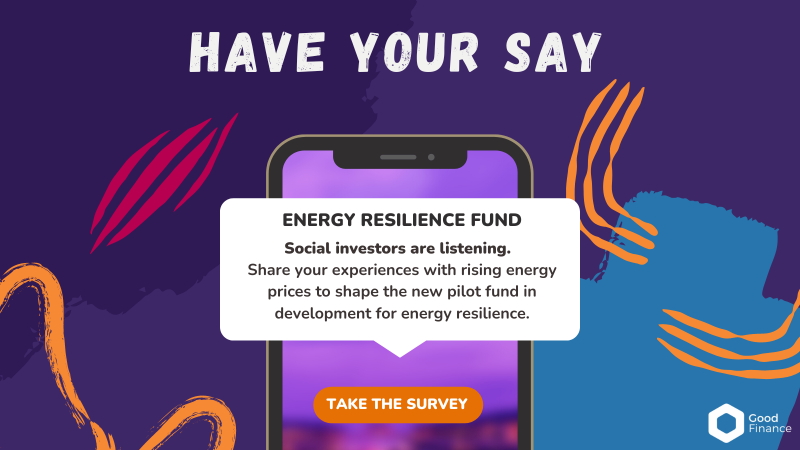 We're working with social investors to help them develop and deliver their support for charities and social enterprises navigating rising energy costs. 
This includes a short-term pilot fund to support organisations as soon as possible, as well as using data to showcase demand in the hope to secure ongoing support from the government.  
We need your help to make sure we design solutions that are effective and impactful. This includes understanding what you're experiencing and what you think that should look like. Your insight enables us  to work with social investors in developing a support package that is fit-for-purpose.
The cost-of-living crisis has enabled a 'perfect storm' for social enterprises, charities and community organisations, as they battle ever-increasing demand for services alongside a decline in fundraising and grants. In fact, 82% of Charity Leaders are concerned about the increased cost of utilities, including energy bills, rent and fuel.  
Here at Good Finance, we are committed to empowering frontline organisations - those seeing the true impact of the crisis - to have their say on the future of financial support for energy resilience and what that should look like. 
The survey is open to any charity, social enterprise or community organisation and takes no longer than 7 minutes to complete. 
Results will be collated and shared directly with the social investors that are currently working to build a funding support package that really works for the sector. 
This survey will play a role in building evidence for the government on what frontline organisations are currently experiencing, the appetite and barriers to improve their energy resilience and the need for immediate action and support. 
By taking the survey, you'll have the chance to 'opt-in' to win a £50 Social Supermarket voucher! A winner will be selected randomly after the survey has closed.