Becky Pickin, Group Development Officer at Dudley CVS, shares her thoughts and reflections following the recent Let's Talk Good Finance: Risk, Resilience and Social Investment event! 
Over the past few years, I've been interested in learning more about social investment as a finance option for the charities and social enterprises we support across Dudley borough. At Dudley CVS, we want to make sure that the not-for-profit sector we support is well-informed and resilient. We know there hasn't been a great deal of interest in social investment across our borough (which could be down to a number of interrelated factors). We wanted to demystify the concept so that social investment can become a more credible option for the organisations who do great work across our communities, especially at a time of shrinking funding opportunities, reduced public spending and rising demand.
So, inspired by a Let's Talk Good Finance event I attended in late 2019 and a 'Why Social Investment Matters' workshop my colleague Martin attended in 2021, we finally brought a virtual Let's Talk Good Finance event to Dudley and the wider Black Country, along with our colleagues from our CVS friends across the region (One Walsall, SCVO Sandwell and Wolverhampton VSC). And because it was virtual, we were able to welcome people from up and down the country without being territorial! It was great to have so much interest in social investment from a range of organisations at varying points of their journeys.
The Good Finance Team curated the event beautifully, allowing time to explain the concept of social investment and, perhaps most importantly, bringing in a presenter from an organisation that had accessed a couple of forms of social investment for the 'Hear from a Peer' segment. Our peer was Matt from Enterprise Homes Group (based in Wolverhampton) who gave us a warts and all walkthrough of his experiences of social investment, which was so insightful; there really is no substitute for a real life example!
If you couldn't attend the event, it was recorded and you can watch it on demand here. 
Image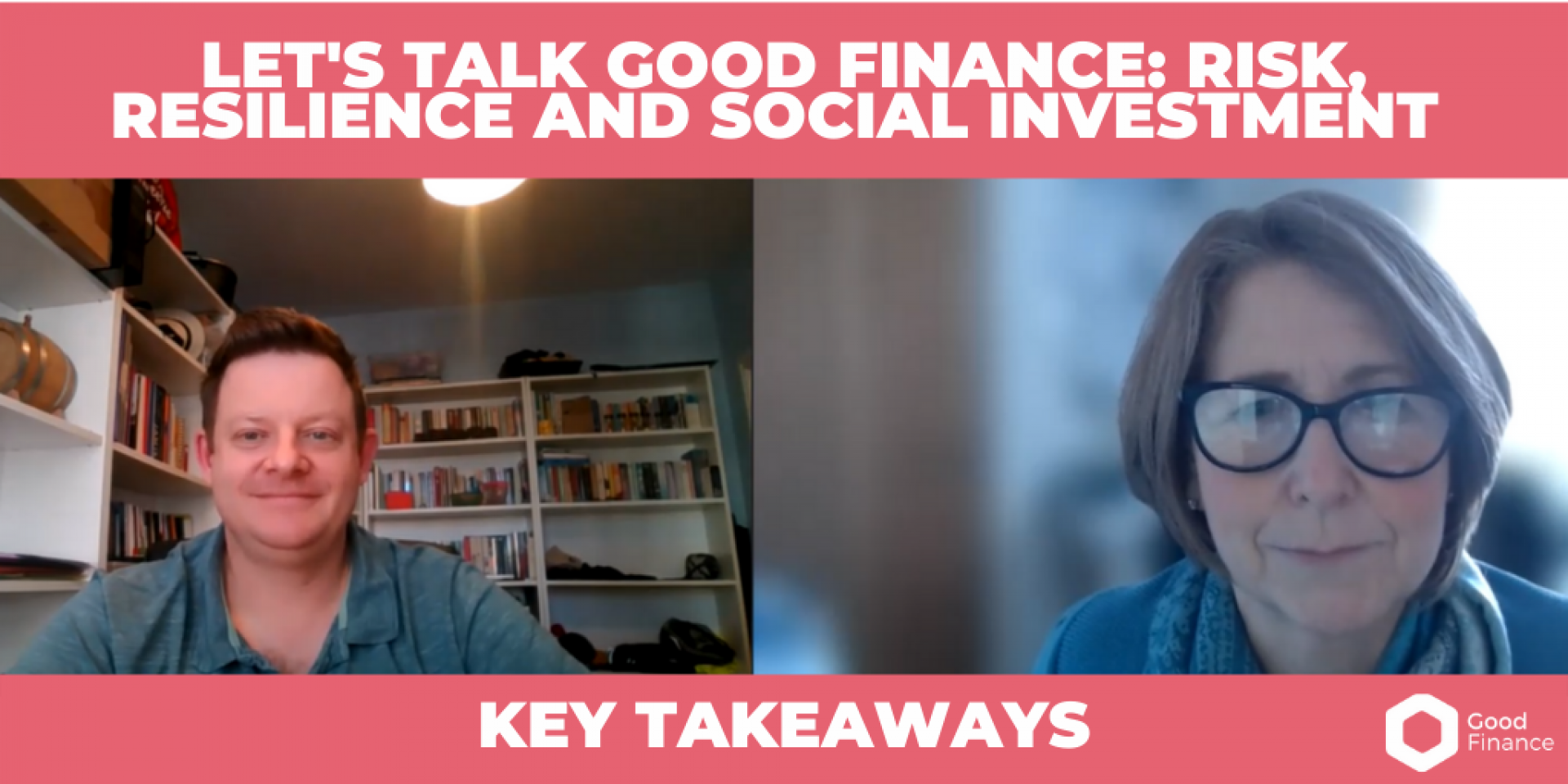 My takeaways
The most important thing I'll take from this session is that we can learn so much from organisations that have accessed social investment. Good Finance has a great library of case studies from all sorts of organisations doing a huge variety of work. Whatever your work, I can pretty much guarantee there'll be an organisation like your own that's gone through it!
What else will stick with me as I learn more and support more organisations?
Relying on grant funding alone is also risky
Anecdotally, people are put off social investment because of its repayable nature. Clearly, social investment isn't for every organisation, but charities and social enterprises that have (or could have) income-generation models, could add social investment to their finance options. It's just as risky in the long term to continue to rely on more traditional methods of fundraising such as grants in a world where these opportunities are shrinking.
The non-financial development support you could get from social investors could be as valuable as the investment itself
Matt told us how the social investor they worked with was very thorough. The investor pushed Enterprise Homes Group to develop a robust business plan and gave them both financial and business support over a 12 month period. It's understandable that the investor would want to make sure that  any organisation they invest in is robust so that their own risk is managed. Matt made the brilliant point that the support they received in developing their business was beneficial, even if the investment had ultimately fallen through. This kind of development support is something an organisation would rarely, if ever, receive from traditional grant funders; the injection of business nous can massively benefit the not-for-profit sector these days.
There's support out there!
There's growing support out there, whatever stage you're at. The Good Finance website is a great place to start, from real life examples to its jargon-buster to its diagnostic tool to help you understand whether social investment might be right for you. And for people who work in infrastructure, like me, there's a resource space to help us support not-for-profits on their journey so that we can learn together.
I think there's scope for us all to continue learning about social investment and how it can be a useful additional tool for many not-for-profits up and down the country. Let's keep talking about it!
Becky Pickin is the Group Development Officer at Dudley CVS. If you're an infrastructure organisation, membership body, community/voluntary network or social sector support organisation, and are interested in hosting an event in collaboration with Good Finance, please contact us today. In addition, try our all-new Scoping Social Investment tool to benchmark your current knowledge of social investment and equip yourselves with the tools and resources needed to better support your members.