Image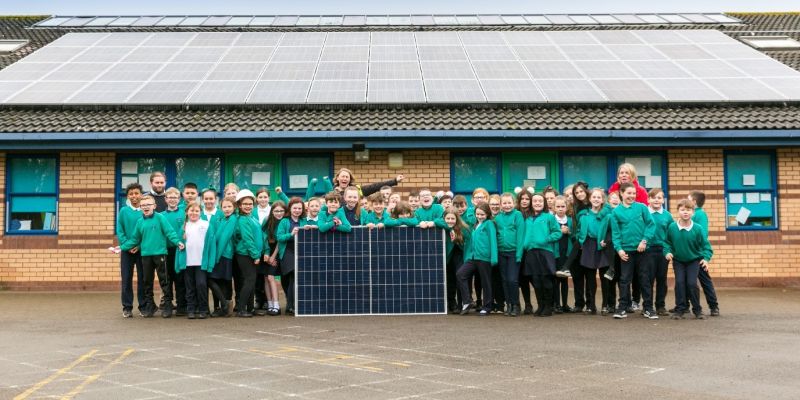 Egni Co-operative was established in 2013 and provides rooftop solar on schools, businesses and community buildings. It has installed solar panels on almost 100 sites across Wales.
Challenge 
In the context of the cost of living and climate crisis, the team at Egni Co-op recognised the need for renewable energy to scale up rapidly. They believe that renewables are the energy of freedom and Welsh people deserve a future free from fossil fuels.
Solution 
Over the past couple of years, Egni has installed solar panels across almost 100 buildings in Wales, including several schools in south and west Wales.
Through their co-op share offer, they give people the chance to invest their money towards a more sustainable future and get a fair rate of return.
They also secured £2.12m in loan finance at 6% from Development Bank of Wales previously, and were able to use the money from the Community Shares to pay this back in 2021. 
Revenue
Egni Co-op's main source of revenue is from schools and businesses – they charge affordable rates for electricity generated from solar panels from which creates a surplus (profit).
Impact 
Egni Co-op generates clean energy, enabling their sites to take action on climate change and to be more financially stable. In 2022 they saved their sites over £119k in electricity costs and over 1,000 tonnes of carbon emissions.
This has a huge impact both from an environmental perspective but also in building energy resilience within schools, businesses and organisations who have panels installed.
Surpluses are invested into education projects in schools which supports climate awareness in the next generation.
"We've been able to scale Egni Co-op rapidly in the past few years, showing the public's appetite for investing in community shares to tackle climate change. We're currently the largest rooftop solar co-op in the UK which fills us with 'hwyl' (pride in Welsh!)" 
Dan McCallum, Director at Egni Co-op 
"We've worked with Dan on a number of different projects over the years, supporting him through a range of different funds, so we always saw Egni as a likely 'winner'. Our role in this was only to help in the preparation of the funding proposal papers and being there to guide it through the system. Nevertheless, we're really pleased to have played a small part in it becoming such a success"
Alun Jones, Head of Social Investment Cymru